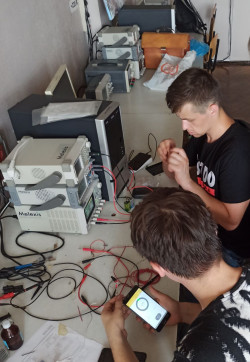 The 10th start-up projects competition of the Festival this year is dedicated to the 30th anniversary of Ukraine's independence. Traditionally, this event is one of the most important events in the field of innovation in Ukraine for students, scientists, and professionals from all over the country. This year, about 320 applications were submitted to the competition, and leading experts made a meticulous selection and identified projects that have the potential for startups to invest and enter into cooperation agreements with teams. Based on the selection results of the most interesting projects from students and teachers to this year's finalist projects of the Sikorsky Challenge 2021 Festival, a project was selected from the Department of Automation and Non-Destructive Testing Systems.
Project № 236. The automated ionization radiation dose monitoring device

Project manager: Yuliia Lysenko, Andrii Melnyk and Artur Belak
Details: https://startups-2021en.sikorskychallenge.com/2021/07/project236.html
From August 12 to 14, the International Jury will evaluate the video presentations of the finalists and the real models of the device projects.
During the review of each project, members of the International Jury will have the opportunity to ask questions, evaluate projects, and select winners in the nominations:
The best project idea
The best technological solution
The best solution to the problems of potential customers
The best business model
Based on the evaluation results of the finalist projects, the most promising startups for investment will be identified, the best ones will be assisted in commercialization, creation of successful startups, and introduction of innovative products to national and international markets.
Best wishes to the teams!!!